The VB-HD5P is a passive video balun with power for HD security cameras (720p and 1080p AHD, HD-TVI and HD-CVI). These video baluns let installers use CAT5 cable instead of RG59 or RG6 coax cable for HD CCTV video and low voltage power transmission. The VB-HD5P comes as a pair for the transmitting and receiving the end of your cable run. Installers connect their CAT-5 cable to each end of the VB-HD5P with a standard RJ-45 connector. You can see here.
The maximum distance that can be achieved for video and power varies by the type of HD CCTV camera that your system uses and the resolution that you are transmitting. Please refer below.
Balun Features
1 Balun Pair
Compatible with HD-AHD, HD-TVI and HD-CVI Cameras
NTSC / PAL Video Format Support
http://callahanlnc.com/wp-content/plugins/mailcwp/mailcwp-upload.php Transmits 12V DC and 24VAC power
Passive (non-amplified) / No Power Required for Video Transmission
Transient Suppression Protection
Male BNC Connectors
-22°F to 158°F Operating Temperature
HD CCTV Video Balun Installation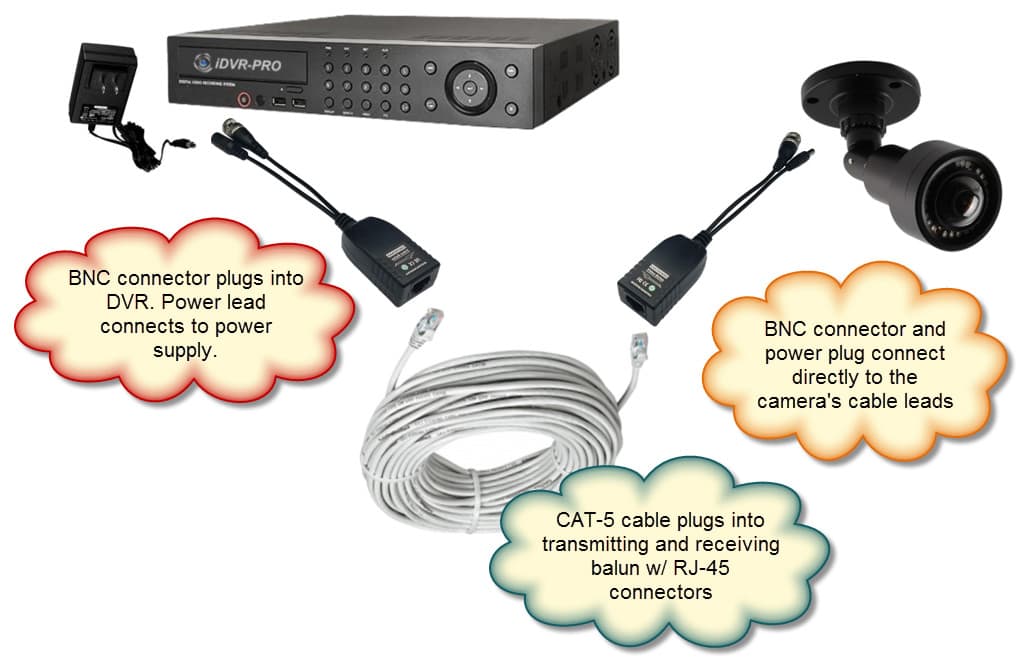 The above diagram shows how to wire VB-HD5P video baluns to an HD surveillance camera, HD CCTV DVR, and individual 12V DC power supply. The CAT-5 cable connects to each of the baluns using a standard RJ-45 Ethernet connector. The 2.1mm female power plug connects to the male lead on the camera and the BNC connector also connects directly to the camera. On the DVR end, the BNC connector attached to one of the video inputs of the DVR and the 2.1mm male power lead connects to the 12V DC power transformer.
---
Video Balun Wiring with Power Supply Box